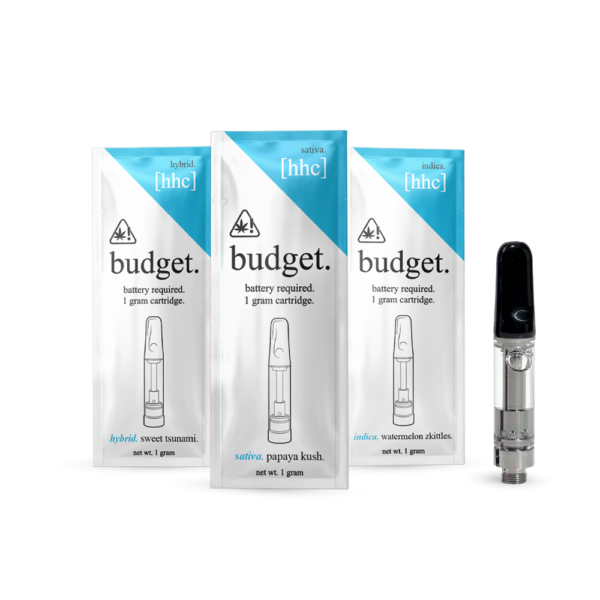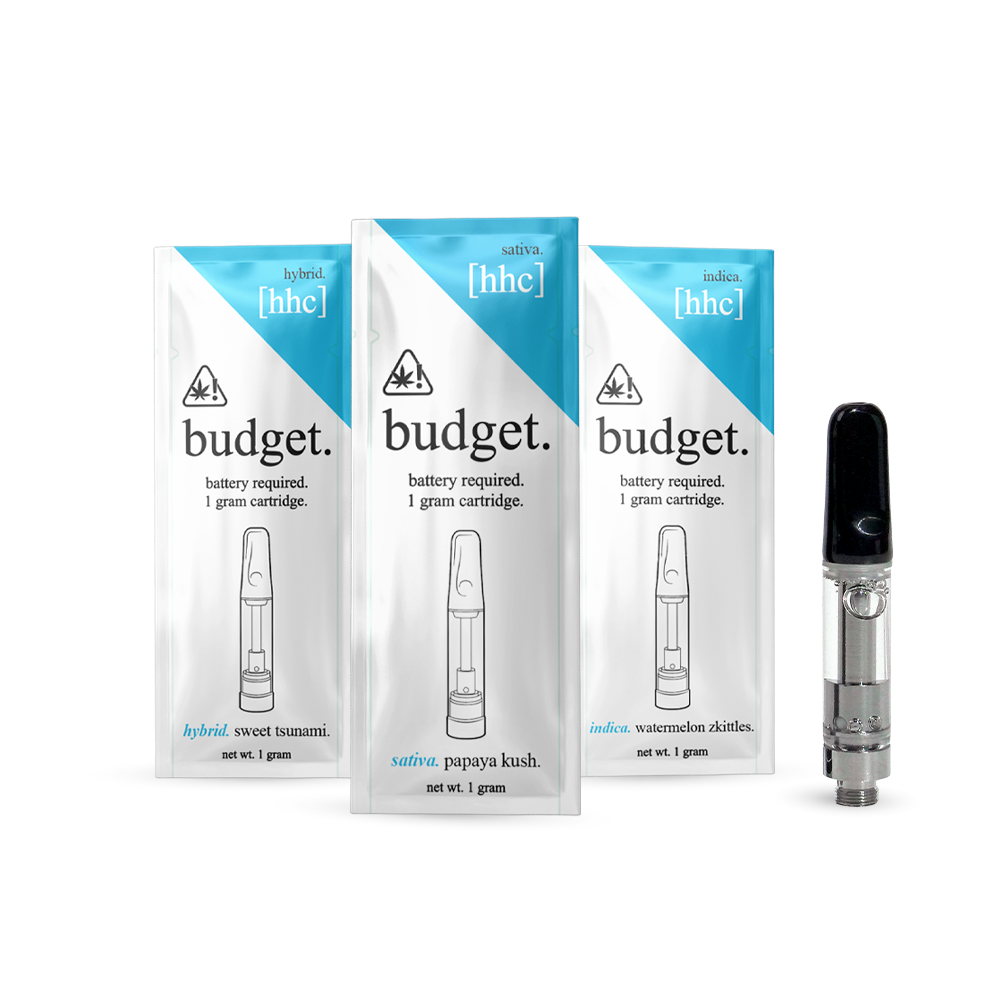 1 Gram HHC Cartridge
From: $10.00
HHC cartridges by budget. offer high quality distillate + terpene blends at the right price. The one gram cart is 510-threaded, fitting most battery bases, and the $10 price tag is wallet friendly. Backed by a 100% Satisfaction Guarantee and made from US grown ingredients, it's the best value in vaping.
Cartridge Information
Measurements
Reviews (27)
Effects – Experience wise, Delta-8 and HHC offer similar effects to traditional cannabis but with a few differences… Claims* made by D8 users tend to revolve around a sense of uplifting, productivity, and even clear-headedness. HHC is said to offer more of the relaxed, chill, euphoric type experience.
* It is worth noting that everyone's experience will vary. Mood, mindset, brain chemistry, physical make-up, age, tolerance, and many other contributing factors play a role. So, please use our products responsibly. Should you have any questions or concerns regarding using these products, we recommend you consult your physician before use.
Drug Testing – We do not recommend you use either HHC nor Delta-8 if you are subject to drug testing.
Battery Base – Compatible with any 510-threaded battery base.
Total Distillate Amount – 1 Gram / 0.035 Fluid Ounces
Total Product Size – In Packaging. Weight: 14 Grams / Dimensions: 3.5 × 1.25 × .5 in
Warning – This product can produce psychoactive effects. Keep out of reach of children and pets. Not intended for use by anyone under 21 years of age. Do not operate a motor vehicle or heavy equipment when using this product. Do not use if you are pregnant, breastfeeding, have a medical condition, or are taking any medications. Consult your physician before use.
Additional information
| | |
| --- | --- |
| Weight | N/A |
| Dimensions | N/A |
27 reviews for
1 Gram HHC Cartridge
---
08 Customer(s) recommended this item
Reviewed by 25 customer(s)
Hhc Watermelon Zkitt

Good Just bought 2 more Make my friend High asf So i get to laugh at him

Truly a blessing.

This product is not just THC for me. It also helps me in so many ways. Thankful for the Budget brand and the high quality product. Big thank you! If you are considering trying them out, do it. Your expectations will be beyond exceeded.

Great product

I really enjoy this product. made me and my partner excited for bed.

so good!

tastes and smells very good, one of my absolute favorites i've tried in a bit!

My favorite!

I've been looking for something strong and this is it!

Best cart ever?

This is the most flavorful cart i have ever gotten, i've gotten around 20 of these from this online shop and dispensary's but it almost never clogs its so cheap and they last a good bit while delivering you a great high. there was no work getting it delivered it was super simple and easy and it's great

Energising and calming at the same time!

Very great remedy if you lack energy and struggle with chronic anxiety attacks.

Great!

If you are looking for an affordable cart, this one is for you! My favorite is any of their indicas. Highly recommended!

Gets me there everytime. I don't buy any other brand !

Seriously these are beyond good, they get me rocked everytime. Cereal milk is hands down the best flavor. Suppresses appetite a bit. the indica will put you to sleep and the sativa will give you energy. I've tried all the other top brands and these are the only ones I vape now. No weird side effects like other brands.. closest thing to the real stuff.. good job budget.

cereal milk isn't my fav flavor but still great quality!