Here at budget. ,we believe that consumers are being overcharged and underserved. the industry is fueled by greedy companies who cut corners, supply subpar products, and take advantage of their customer base. we're here to fix that.

Our goal, from conception, has been to provide the highest quality hemp-derived vapes at the lowest possible price. making safe, delicious, and effective cannabinoid products available to everyone is the cornerstone of who we are. at budget, we believe wallet friendly weed is the future of this industry.

We were founded by distromike, a manufacturing company with extensive first hand experience developing hemp derived vaping products. we've identified a need for a brand like budget., and our mission is crystal clear; provide high quality products at a price everyone can afford.

So, here we are. disrupting an industry in the best way possible.

Welcome to the best value in vaping.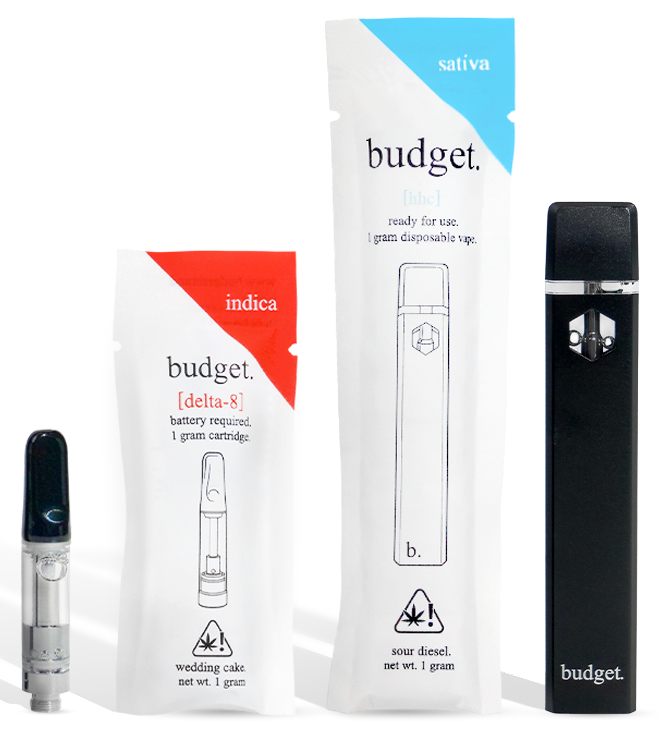 At budget. providing high quality vaping products at a price everyone can afford is foundational. there are very few brands in this industry that can match our pricing and quality. this is mainly due to a high cost of goods, outsourcing of manufacturing, and greed seen by other companies. all problems that we were built to fix.

First, quality and safety is always the #1 priority. everything that leaves our warehouse comes with a 100% satisfaction guarantee. if any customer receives a defective or faulty product, we will gladly replace it. we aim to build lasting trust as a brand and believe we can do just that by standing behind our products. absolutely all of our products are lab tested and we refuse to use toxic cutting or thinning agents. we source only the best tasting terpenes, the highest quality distillate, and choose to work with hardware developers that are cornerstones of this industry.

Second, is cost. due to the simplicity of our packaging, our material and labor costs are far below that of our competitors. all of those savings, we pass directly on to you. many brands in this space outsource their manufacturing, and they get charged for it. by keeping all manufacturing, designing, and packaging in-house, we are able to pinch every possible penny.

And lastly, experience. budget. is a part of the distromike family of brands. (which includes other vaping leaders like baked hhc and cleanaf cbd.) because we've been producing vaping products for many years, we know the good, bad, and ugly of manufacturing. we understand the differences that quality hardware can make, we have access to the best labs in the country, and all of our proprietary blends are formulated right here in the usa. we believe the difference is noticeable and that your experience with our vapes will speak for itself.

While budget. may be a new brand, we are not new to this industry.

If you have any questions about budget., distromike or any of our other brands please let us know!
State and local laws concerning Delta-8, Delta-9, Delta-10, THC-O, and HHC can frequently change. We recommend that you check your state's website for the most up-to-date regulations.
states with [hhc] restrictions:
Hawaii, Idaho, Oregon, South Dakota, and Vermont.
states with [delta-8] restrictions:
Alaska, Arizona, Arkansas, Colorado, Connecticut, Delaware, Hawaii, Idaho, Iowa, Kansas, Kentucky, Louisiana, Mississippi, Montana, Nevada, North Dakota, Oregon, Rhode Island, South Dakota, Utah, Vermont, and Washington.